My plushies are made with Cuddle 3 minky fabric (by Shannon fabrics). Other fabrics and materials ca also be used by arrangement.  
I use my own pattern design of body, head, mane and tail.
For embroidery designs I use a Brother Innov-is V3.
Eyes and cutiemarks are designed by me and directly embroidered on fabric.
I use Amann isacord embroidery thread or Madeira embroidery thread for all applications.
Plushies are stuffed with polyester fiberfill.
For balancing I put poly pellets in the hindlegs for better standing (Princess size ponys have wire in the legs).
Head, bottom of hooves, wings, horn, mane and tail are hand sewn. I use an inverting stitch that is not seen at the front of the fabric.

There will be my signature embroidered into the bottom of the hind hoof and my label is seen on the hind leg.

My designs develope by each pony to get the best results for you.
Every plush is made in a smoke-free environment.
I have cats, if you are allergic to cats, keep this in mind.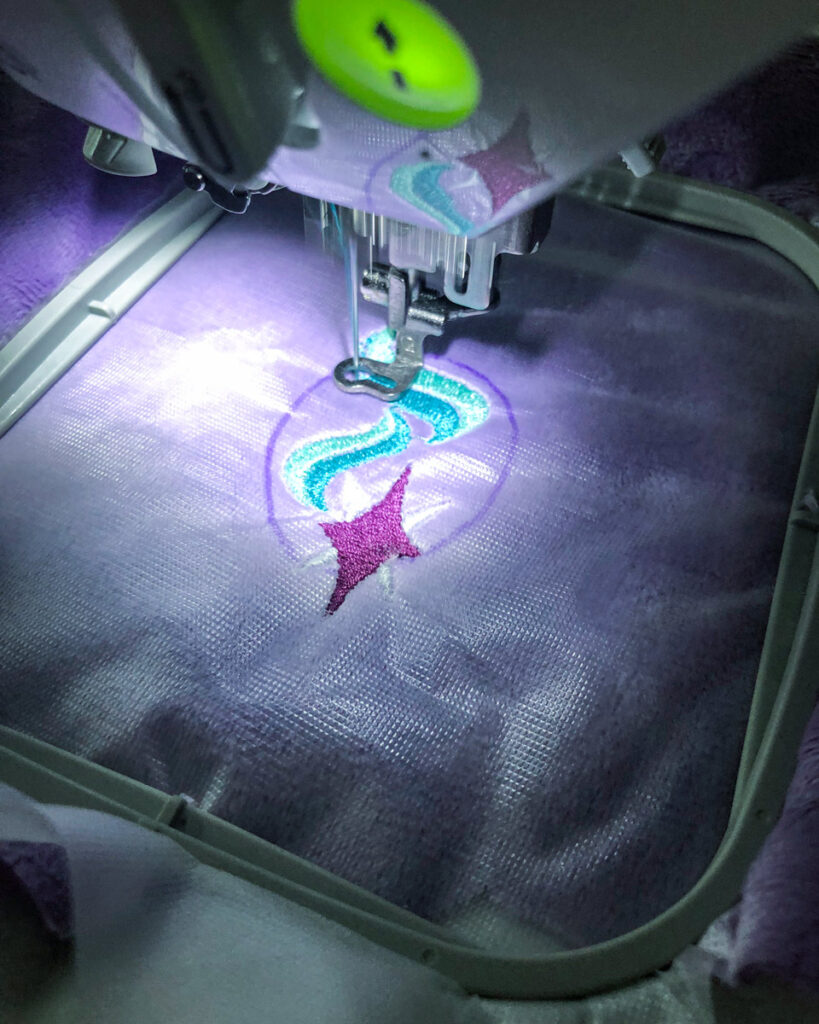 General Price Information
Payment will be in advanced via PayPal (I will send you an invoice upfront) or banktransfer (for EU).
Payment will be in EUR.
All price quotes are without shipping costs or possible custom fees.
All prices are VAT exempt.
Full payment is required before I start with OC´s.
Half payment upfront for Show characters are possible but the full amount must be paid before shipping.

I do not give discounts. It´s

not fair to other commissioners.
Specific Price Information
The price range depends on many factors which you can read below:
Size
Breed (unicorn, earthpony, …)
Colors
Complexity of embroidery
Complexity of mane and tail
Complexity of the pattern
Outfits
Custom wishes
Size matters!
Yes, it does. Because even a small pony shows the same amount of work as a standard size. Sometimes it is even more complicated because you have to work much more precisely.
Standard sizes are shown below. All sizes are hoof to ear and do not include mane and tail.
Standing mares: approx. 50 cm (20 inch) tall


Standard Princesses: approx.

90

cm (35,5 inch) tall

Standard Laying Pony: approx. 55 cm (21,65 inch)  long
Standard Laying Princess: approx. 90 cm (35,5 inch) tall
Standard Stallion: approx. 55 cm (21,65 inch) tall
Standard Griffin: approx. 55 cm (21,65 inch) tall
Small Ponys: approx. 28 cm (11 inch) tall
Small Princesses: approx. 50 cm (20 inch) tall
Foals: approx. 30 cm (11,8 inch) tall
Babys: approx. 20 cm (7,8 inch) tall
Dragons: approx. 90 cm (35,5 inch) tall
Mermaids: approx: 25 cm (10 inch) tall and 50 cm (20 inch) long
Chibis: approx. 10 cm (4 inch) long
I ship worldwide from Austria with standard international post, incl. tracking number

Shipping costs does not include any taxes or import charges and have to pay by the commissioner. Please check this before

I take no responsibility for damage and loss of packages (if you like to have an insurance for your package, please tell me. There will be some extra costs)

EU:

10

–

30€

(depending on country and plush size) – 5-10 working days
US: 25-

50€

(depending on plush size) – 12- 14 working days
Rest of the world: 30-55€ (depending on plush size)
Important information about foreign shipping
Tolls, taxes, and other fees not indicated in the total price may apply to international shipments.
Returns and Cancellations
No returns will be accepted

If you like to cancel your commission it depends on if I started the commission or not. If not I will refund your purchase minus PayPal fees and cost of ordering materials.

If I started the commission already no refunds may be issued.
My plushies are handmade creations (some parts are stichted by hand). So therefore a rough handling is not recommended otherwise some parts can get damaged. I will not take responsibilty if some parts get damaged, so please take care of it.

My plushies are also not suitable for washing machine. Only handwash with a moist towel will be fine.
3D Eyelashes can be made
Custom patterns are possible but will cost extra

Airbrush is possible

Faux Fur can be used for mane and tail

Glow in the dark yarn is possible